Analytical reporting tool
Analytics and reporting tool integrated with BI technology allows to analyze data visually and generate graphical reports which helps to make quick and accurate decisions. Live dashboards allow quick analysis of data through intuitive graphs & charts to keep you up to date.
Customer Reviews
Read unbiased reviews about NewGenEducationApp on GetApp & Capterra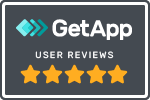 GetApp is a Gartner company. It is an ecosystem of business app and software discovery platforms. Its mission is to advise professionals to help them find the software and apps that best meet their needs.
Capterra, Inc. is a free online marketplace vendor serving as an intermediary between buyers and technology vendors within the software industry. The company assists consumers with selecting software for their needs with user reviews and research.